Google APAC Success Story: CNA Central News Agency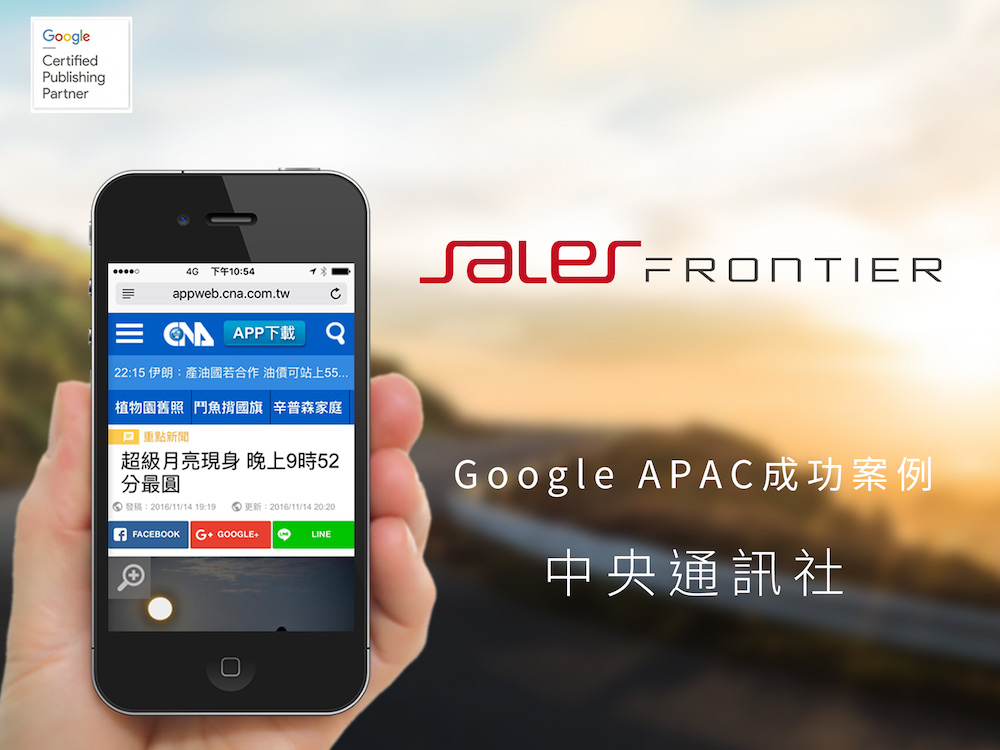 The key of mobile advertsing success is faster load time of the mobile web, the higher the ad revenue. CNA Central News Agency, Sales Frontier's long-term publisher partner, provides quick and instant news for its viewers and works with Sales Frontier to implement "MWEB Mobile Web Accelerated Project". We optimized the mobile page by increasing overall ad impressions + 30%, ad clicks + 50%, and ad revenue +52%.
With Sales Frontier and Google technical team's support, CNA has successfully reduced its page load time and bounce rate while increases more engagement and ad revenue. Currently, 71% of traffic comes from mobile web. CNA will continually provide users with high-quality news content and best user experience on cross-devices.
According to statistics, when a page loads more than 3 seconds, 40% of the users will no longer wait for it and choose to leave. More than 10 seconds of load time, you may never see users again. From the survey, Taiwanese spend more than 3 hours a day on mobile phones, ranking the world's first, and 58% of people
in the group
believe that social platform and internet news are the main sources to access information.
In response the large demand of mobile trend, Google has launched accelerate mobile page project to improve mobile user experience, including Mweb (Mobile Web), AMP (Accelerated Mobile Pages), and PWA (Progressive Web Apps). Next, Sales Frontier and CNA will begin to work on PWA project to create ultimate mobile web user experience.

Contact us immediately to learn more about mobile web acceleration technology service.

Full report
:
https://apac.thinkwithgoogle.com/articles/mobile-need-for-speed.html